Chris Lara is a second-year Rotary Peace Fellow  from Colombia hosted by Southwest Durham Rotary Club. He is studying at Duke's Sanford School of Public Policy. Below is an excerpt from a blog he wrote about his applied field experience. I'll link to the complete piece on the Rotary Peace Center blog. 
"We are in the business of aspirations. We are in the business of dreams. And optimism is synonymous with creativity. Furthermore, optimism is our responsibility" – Luis Miguel Massianu (quote to Francis Lethem)
Foreword: One Summer – Multiple Applied Field Experiences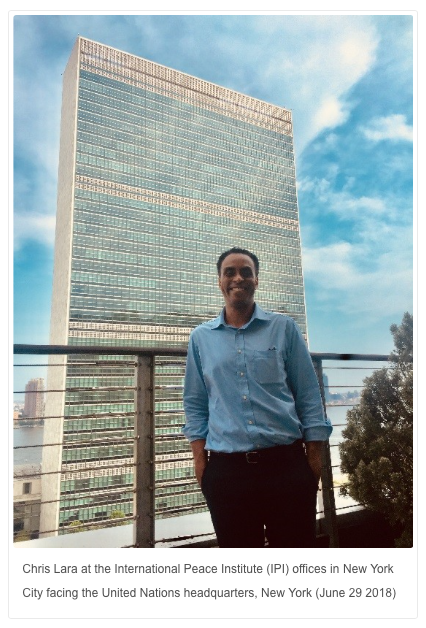 We live with constantly changing technology and a global economy that demands a versatile, mobile and multidisciplinary workforce, able to respond quickly to disruptions in many facets of our lives.
Since the beginning of my fellowship, I have been constantly and intentionally out of my comfort zone, and as a result, I have developed a particular understanding of career pathways at this mid-career point in international public service. I have realized that even for personal/professional development we need more connectivity awareness, planning, financing, leadership and coordination: professional management for superior impact.
During the last year at the Sanford School of Public Policy, I have undertaken academic projects related to the role of policy in responding to the shifts on nature of employment and the future of work. Specifically, in addressing the ways policy is responding to those changes and how personally we prepare for it. That is something that has triggered my curiosity and this applied field experience (AFE) was an opportunity to turn theory into practice.
My AFE encompassed a variety of interests that I have developed throughout my academic and professional careers. In addition to completing two academic courses, during the last three months, I have had the opportunity to work on two consultancy projects with two clients, operating from seven different cities1 I worked on the identification, outreach and coordination of the necessary partnerships, I held meetings with more than 30 stakeholders, and laid the groundwork for advocacy opportunities for future Rotary Peace Fellows (RPF) and Institute of Economics and Peace/Global Peace Index Ambassadors, as part of my role as IEP GPI Ambassador.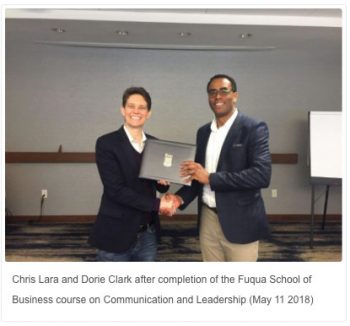 One of the most interesting aspects of my AFE was the opportunity to explore the possibilities for use of technology for emergency preparedness and response with the PAHO-World Health Organization office for the Americas at its headquarters in Washington DC and The Hague Humanity Hub in The Hague and Zurich.
In addition to two consultancies during my AFE, I was a fellow with the Duke Global Policy Program in Geneva (blog on my experience) and I participated in an intensive summer course on communication and leadership at Duke University's Fuqua School of Business. In Geneva, I participated with former and current RPFs in the founding meetings of the Rotary Geneva Peace Forum – hosted at the Geneva Center for Security Policy (GCSP), as well as in Tokyo and New York, where I advanced partnerships with key organizations (Peace Boat / EcoShip and IEP).
This blog will be divided into two parts: in part 1, I will present my personal and professional motivations, how this experience fits into the big picture and why it is an instrumental element and a benchmark of this two-year fellowship at Duke University as a Rotary Peace Fellow. In part 2, I will present my clients and give an outline of the substantive issues, and what are my expectations in regards to the impact.
PART 1 (a reflection)
Towards 'The New Way of Working'
"Back to the beginning –the 'why?'
On World Humanitarian Day, Sunday 19 August 2018, the United Nations Chamber Music Society performed a benefit concert for Yemen at a church in heart of Manhattan. With opening remarks by the Ambassador of Yemen to the United Nations (UN) and the UN Office for the Coordination of Humanitarian Affairs (OCHA), all proceeds from the concert were directed to Mercy Corps, to help support the most vulnerable people in Yemen. At present Yemen has a more than 2 million internally displaced persons, over 280,000 refugees, and 8.4 million people on the brink of famine.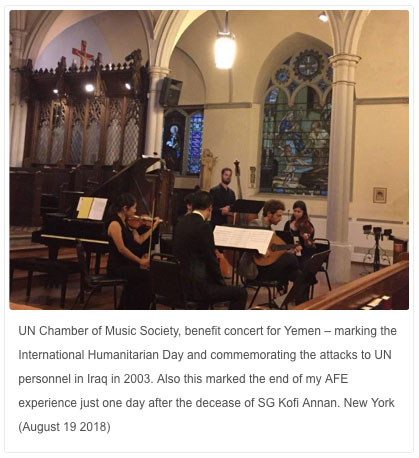 Exactly one day before my return to Durham, this event symbolically marked the end of my AFE, and couldn't have been more well-timed: the concert for Yemen was one day after the unfortunate decease of former UN Secretary General Kofi Annan, and the same day as the commemoration of the unfortunate events in Iraq, back in August 2003, where the Canal Hotel in Baghdad (UN compound) was bombed with a death toll of 23 UN officials/friends/colleagues, including, unarguably, the loss of a true role model: Sergio Vieira de Mello.
The heart of the eclectic repertoire performed by the chamber music was the ever-enigmatic sound of the oud3. It brought back memories of my first professional commitment with the humanitarian endeavor. It was the fall of 2009 in Ramallah, in the occupied Palestinian territories, when I was eager to engage in international cooperation work. But my fate was on different coordinates: a few weeks after arriving in Palestine, I received a job offer to serve the "we the peoples" mandate at the Emergency Services Branch of the Office for the Coordination of Humanitarian Affairs (UN OCHA) at the Palais des Nations in Geneva.
2009-2010 was a soothing winter in Geneva, and even though I was at the center of the UN global humanitarian coordination, no one could imagine the devastation and overwhelming effects of the emergencies which occurred in the following six months:
Between January and February 2010, two major earthquakes hit the Americas with catastrophic consequences: a 7.0 earthquake in Haiti on 12 of January and an 8.8 earthquake in Chile on 27 February taught us that we never know if we are actually prepared. The first earthquake, due to its impact and the second, due to its intensity, became turning points in the way the emergency response systems were to be implemented.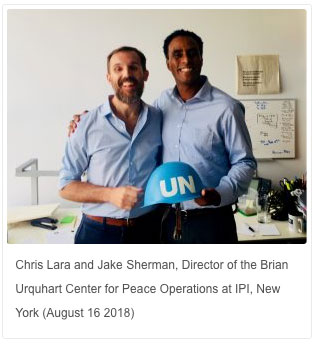 Additional 'out of scale' disasters occurred that year: as a result of heavy monsoons in the Khyber Pakhtunkhwa, Sindh, Punjab and, Balochistan regions of Pakistan, more than 20 million people were directly affected by large-scale flooding, and my office at the Surge Capacity Section of UN OCHA was at the forefront of the UN coordination.
Additional 'out of scale' disasters occurred that year: as a result of heavy monsoons in the Khyber Pakhtunkhwa, Sindh, Punjab and, Balochistan regions of Pakistan, more than 20 million people were directly affected by large-scale flooding, and my office at the Surge Capacity Section of UN OCHA was at the forefront of the UN coordination.
The following year at New York HQ with the Coordination Response Division of UN OCHA, I worked first on the preparations for the hurricane season in the Caribbean, and then after, with the UN Peacekeeping Operations (UNDPKO) Office of the Rule of Law and Security Institutions on advocacy to ban antipersonnel mines and the first sketches of essential regulatory framework for a peace agreement in Colombia. That period epitomized the intermezzo of my participation in large crises: my next assignment was meant to be with the global Ebola outbreak response in West Africa… and the Crisis in South Sudan -right before traveling to Durham, exactly one year ago.
These experiences provided me with invaluable insights and the sense of urgency to improve our way of work. Bridging the spurious divide among development, humanitarian, peace & security and public health sectors never was a theoretical issue but a very tangible one: in order to save lives we should do more with less and at the same time tackle the determinant and amplifier factors of poverty, humanitarian crises and social unrest (climate change, attacks to multilateralism, weakening of international leadership and governance, corruption etc.).
My experience in past humanitarian complex emergencies, natural disasters and public health crises has shown me that no crisis is alien to political circumstances and there are not apolitical ways of responding to them. But there is a moral compass, a corpus of doctrine that supports the hard task of brokering and convening. A world organization that with all its imperfections represent the noblest aspirations of humankind serving as a moral and humanizing force through the powerful notion of 'we the peoples'.
The oud has stopped, its enchanting sounds have faded away and I am here in the heart of Manhattan, with the firm conviction that now more than ever before, that multilateral mandate from humanity should be strengthened and protected, as we cannot turn back the clock to simpler times.
Read about the rest of Chris' experience on the Rotary Peace Center blog here.