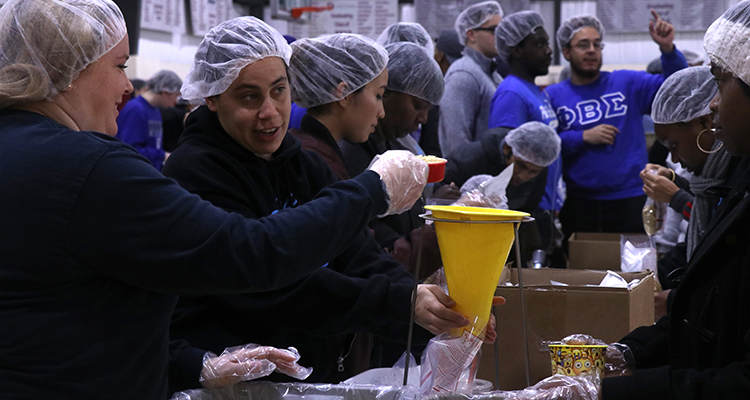 On January 21, 2019, Southwest Durham Rotary Club hosted its annual MLK Day of Service in Durham. Southwest Durham Rotary Club partnered with other Durham Rotary Clubs, as well as Duke University, Interfaith Food Shuttle, Meals of Hope and The Duke School, packed over 100,000 meals that were distributed to North Carolina food banks in Durham, Orange, Wake, Chatham and Johnston Counties. Over 200 volunteers from Rotary, Duke, Duke School and the Durham community packed this many meals in less than four hours.
The event was held at The Duke School, and the materials provided by Meals of Hope, a non-profit founded by Rotarians that began as a food packing organization focused on food packed for the United States. They developed five meals for the American palate, and added vitamins, minerals and proteins. Learn more about  Meals of Hope here.
Southwest Durham Rotary Club applied for and received a $19,000 district grant from Rotary District 7710, with this project serves as its annual Priority One grant.
Below are photos from the day!