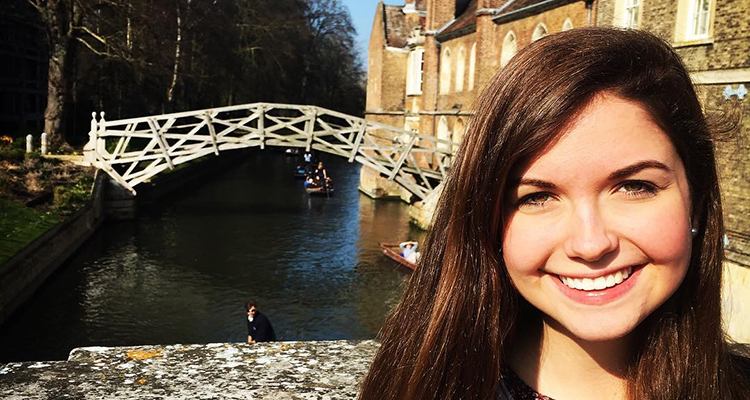 Catherine Ward, who recently graduated from Duke University, is a Rotary Scholar studying at the University of Cambridge. She is sponsored by Southwest Durham Rotary Club. Below is her second update after having arrived in the U.K. See her earlier post here.
Last week was beautiful and spring-like here in Cambridge. I'm attaching a photo of me by the Mathematical Bridge. Myth holds that Sir Isaac Newton, who was a student here, designed it, which is completely anachronistic in reality. However, because of the myth, it's a popular tourist photo spot, and I took my tourist photo while enjoying the beautiful weather we were having. 
Things have been going well in Cambridge, and I am trying to take advantage of both cultural and academic opportunities at every turn. On Monday, I went to the Yidan Prize Conference here, which focuses on understanding high quality education and how we might bring it about to all children globally. It was a great opportunity to augment my studies by hearing from phenomenal educationalists before heading to my classes. In the evening, I went to the Master's Lodge of Pembroke College (my college) for a Shrove Tuesday pancake celebration, which was quite fun — the other American students and I thought the difference in how pancakes are in the U.K. compared to the U.S. was quite funny (but tasty across cultural contexts)! The Master of Pembroke has been a member of Parliament, Secretary of State for Culture, Media, and Sport, and a member of the House of Lords, so he is certainly an interesting figure.
Today, I'm listening to a former Rotary Peace Fellow and current Ph.D. candidate in Education here talk about Masculinities and Peace Education. He and I have chatted several times about Rotary's role in our journey to understanding peace and education, so I look forward to learning more from another Rotarian. 
Later in the week, I will watch a "Lent term bumps" event, which is like the crew equivalent of March Madness, with each college rowing team competing  to see who makes it farthest in the competition. It's a big Cambridge tradition, as rowing is the most popular sport here. I'm also hoping to go to talks on the marketization of higher education and rights and responsibilities in refugee integration this week. On Friday, differing from the typical talks I attend, I will be listening to an actress and director from the Harry Potter film franchise, which should be a fun way to entertain my inner child, as I was a huge fan of the book and film series growing up. 
I've been reading a great deal lately about education for unaccompanied asylum seekers in the U.K., trying to understand the intricacies of migration and education policies in preparation for writing my dissertation next term. I've been lining up interviews and reaching out to my contacts around the U.K., and I'm really enjoying working on this project.
Time is flying by here! I'm going to Athens for a few days in mid-March after our term ends, then I will be knee-deep in dissertation work. I'm really excited about the chance to research a topic I'm incredibly passionate about. It is very meaningful to me to have this opportunity to engage deeply in academic and service-related work that I love. I'm in the midst of making decisions regarding where I will be for law school next year, and I know this year's academic and cultural adventures in Cambridge have helped me prepare not just for law school but for my future career broadly and for lifelong learning as a global citizen. I have learned so much about other cultures while here, and I have also learned a great deal about research techniques. Moreover, I have become more literate in peace and conflict resolution, and I have had the chance to deeply study Basic Education and Literacy, the primary Rotary theme for my studies this year. After law school, I look forward to joining a Rotary club in the community in which I find myself immersed, giving back to an organization that has given me so much. I will forever be grateful for this opportunity.