Catherine Ward, who recently graduated from Duke University, is a Rotary Scholar studying at the University of Cambridge. She is sponsored by Southwest Durham Rotary Club. Below is third update after having arrived in the U.K. See her earlier posts here, here and here.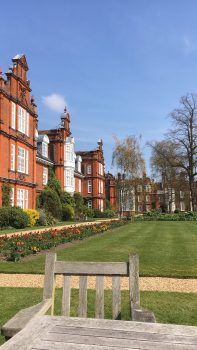 Happy Easter Weekend! Around this time last year we met for the first time during my club-level interview, and I am so glad we did. What a whirlwind year it has been since then! I still can't believe how lucky I am to be in Cambridge and to have Rotary's support here.
Warm weather has finally arrived in Cambridge, and we are all making our best efforts to soak up the sun while it lasts! I love being able to work on my dissertation in beautiful gardens at various colleges. I'm attaching a photo of one of my favorite study spots, the Newnham College gardens. 
I'm thoroughly enjoying working on my dissertation. I have learned a great deal by analyzing both my own findings via data collection and the scholarly literature related to my topic. I have found it quite inspiring to learn more about the ways in which practitioners in the UK are supporting unaccompanied asylum seeking children in formal and informal educational spaces. I am eager to tell you more about my findings next time I see you! I submitted an abstract to three conferences, and I was accepted for presentations at the different conferences, so I hopefully will get funding from Pembroke College to present my research and learn from others in related fields. It should be a great opportunity for learning and professional development! In addition, as a result of my research, I am working with practitioners to try to establish more mentorship opportunities for unaccompanied asylum seeking children locally, hopefully creating opportunities for learning and growth amongst both British mentors and asylum-seekers.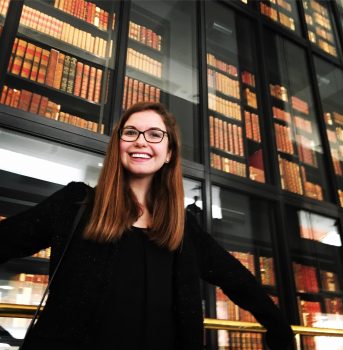 I took a day trip to London this week and wandered the British Library. As a former English major and long-time history lover, seeing Jane Austen's writing desk, original Brontë sister manuscripts, Shakespeare's first folio, the Magna Carta, and incredibly elaborate illuminated manuscripts was very fun. I stay in awe of the opportunities I have here. I am attaching a photo of my excitement at the British Library.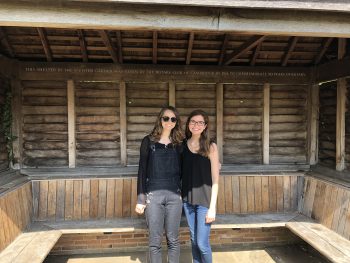 To celebrate the warm weather, I spent time yesterday wandering through the Cambridge Botanic Gardens. A fellow Rotary Global Grant Scholar and I took a picture under the Rotary sign in the gardens. We both talk often about our deep appreciation for Rotary, and I have learned a great deal from her through our conversations related to how our research relates to different Rotary themes. 
I submit my dissertation 8 July, have a few days with my family in the United Kingdom in which I will show them around the area, then return to North Carolina in mid-July. I will be moving to Charlottesville, Virginia in early August to begin law school at the University of Virginia, where I hope to build on my understanding of educational equity that I have developed this year in order to make a positive difference in this world. I am incredibly grateful to Rotary District 7710 for preparing me for the future work I will tackle.