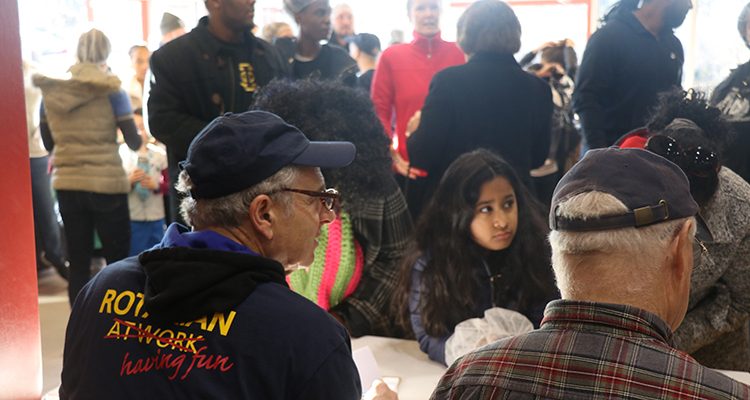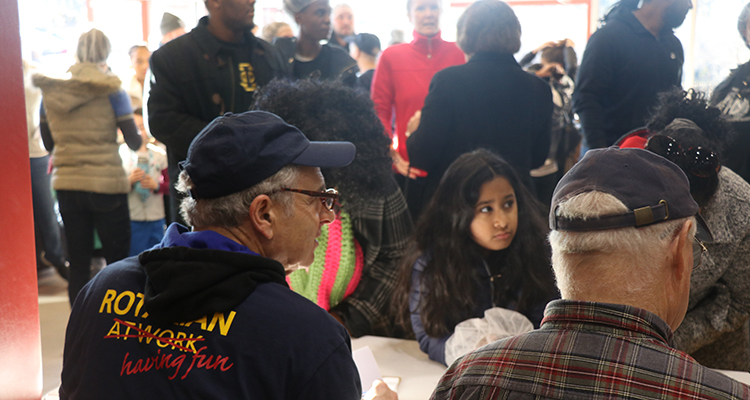 It's that time of year again! We're holding our annual wine raffle fundraiser in early April, and we're selling raffle tickets. Tickets are $10 each, and prizes are various bottles of wine — the grand prize is wine for a year — that's 52 bottles of wine, donated by our fantastic sponsor, Sam's Bottle Shop in Durham. There will be at least 10 raffle winners, with other prizes ranging from one to twelve bottles of wine per winner. The winning tickets will be drawn live at our event on April 11th, which will be held at Sam's Bottle Shop at 6:30 p.m.
All money from the raffle fundraiser will go to the Southwest Durham Rotary Foundation, which puts money back into projects the club members work on both locally in Durham and across the world. Help support a good cause and you could win a fantastic wine prize! If you'd like to buy tickets, please contact us at swdrotary@gmail.com before April 5th.
Projects we completed in 2018-2019 with proceeds from the 2018 wine raffle include:
Fill That Bus
Helped to collect school supplies for Durham Public School teachers

Effort collected over $100,000 in school supplies

History on this event – started by the Southwest Durham Rotary club seven  years ago with the support of the other area Rotary Clubs

Over the duration of the time in which we have been involved we have collected over $500,000 in school supplies for DPS teachers

By the end of this year the SWDR Foundation will have donated $27,000 to Crayons2Calculators
Urban Ministries of Durham
Long standing project of collecting toiletries from club members throughout the year to donate for the packaging of sanitary kits (also donated to Caring House)

Serve breakfast three to four times per year

Spent a day decorating the family area and the Café for the December holidays

Hosted a craft table and brought Santa Claus to the Holiday Party for the children staying at Urban Ministries
Facilitated the donation of tricycles as part of a district project
Dental Bus
Five to six dentist Rotarians worked in conjunction with support staff and other volunteer Rotarians to serve underserved individuals at TROSA and UMD, providing free dental care totaling over $60,000

SWDR provided the funding for the rental of the dental bus
MLK Day of Service Meal Packaging Event
Packaged over 106,000 meals that were distributed to food pantries in Wake, Durham, Johnston and Orange Counties

Fifth year of the event
Support the Rotary Peace Center at Duke/UNC and serve as host counselors to recipients
Commitment to Youth
Support the Rotary Youth Exchange Program

Sponsor Durham students to travel abroad

Host In-bound students from other countries to spend nine months in Durham

Interact/Rotaract

Sponsoring five Durham Youth to attend a three-day event focused on personal development and servant leadership

Rotary Youth Leadership Awards

Sponsoring five Durham Youth to attend a three-day event focused on personal development and servant leadership

Interact/Rotoract

Sponsor and Advise students in the Interact Club of North Carolina School of Science and Math

Sponsor and Advise students in the Rotaract Club of Duke University

Pursuing the formation of a Rotaract Club at North Carolina Central University
Alzheimer's Caregiver Luncheon
Have done this event for five years

Luncheon, prize giveaway in honor of caregivers of individuals with Alzheimer's disease and other memory disorders

Over 100 guests in attendance at this year's event
International Projects
Funding committed to provide clean water to a school in Arusha, Tanzania

Funding committee to a project in Cambodia focusing on Maternal and Child health

Funding provided to support the building of over 200 toilets in Pune, India to promote clean water/sanitation and (we also supported the first iteration of this project in 2016-17 with over 200 toilets)

2016-17 provided funds to assist in a project to solarize eight schools in Uganda

2016-17 provided funds to help provide security fencing and update facilities at a small school in Uganda (different from the schools that were solarized)

Mentaid

2016-2017 and 2018-19 provided funding to help in the improvement of facilities at a school in Nicaragua – new electrical wiring, upgraded facilities overall.

 

The 2018-19 project will be completed in March 2019.
Bull City Racefest
Raised $900 from our volunteers + volunteers from the other Durham clubs volunteering to support Polio eradication efforts
End Polio Now
As a club (not including individual donations from members) we donate $1,000 per year to Polio eradication
Scholarships
Provide four $1,000 scholarships to students at the Emily K Center

Contributed to a District Grant which provided eight scholarships for Durham Youth to attend the Institute of Civic Engagement for Emerging Leaders Conference
Backpack Buddies: Members of the Southwest Durham Rotary Club continue to partner with the Durham Sunrise Club to deliver backpacks filled with food for the weekends to students at Forest View Elementary School.  We have been delivering through this program for two years and have supported the district grant to provide backpacks for 24 students (meals for every weekend while school is in session) for the last five years.
Habitat for Humanity
This spring we will be volunteering with the Durham Rotary Club on the building of a house in Durham

SWDR also contributed to a district grant to provide funding for a portion of the project
Animal Protection Society of Durham:  SWDR provided funding to receive a district grant for the placement of a misting system in the play yard of our local animal shelter.  During the spring and summer, the turf surfaces because too hot for the animals to utilize for play and exercise.  The misting system will keep the space cool so that the animals can continue to have outdoor time for training, socialization and play while they are waiting to be adopted into their forever homes.
Additional Contributions
Contributed funding to a District Grant to support a multi-day conference focusing on the Conflict Over Gaza – People, Politics and Possibilities

Work with local universities to identify high caliber graduate students to pursue advanced degrees internationally through the Global Grants process